Michael Rapparlie story:
A Navy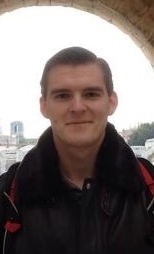 Nuclear trained Electricians Mate, Second Class Petty Officer (E-5), with 6 years of experience in the areas of nuclear aircraft carrier electrical distribution and casualty control operations.  He is a qualified Auxiliary Electrician, Machinery Reactor Electrician, Jocelyn Operator, Switchgear Operator, and Load Dispatcher.  He was stationed aboard the USS George W, Bush (CVN-77), home ported out of Norfolk, VA.  His journey with Power4Vets first started when he was introduced to the program thru a fellow co-worker and he enrolled into the program in April 2014.  Michael was pretty much deployed the entire time while enrolled in the program and he persevered through the training process and he completed the training and obtained his NERC Reliability Certification on 9 January 2015.  He was also set up with an interview well before he transitioned out the Navy, and he landed his dream job in the industry and will start working for Grant County Public Utility District out of Washington in April 2015 as a Senior System Operator.  Michael is the epitome of a student who followed the advice of his Power4Vets mentor and advisors and he dedicated himself 100% into the Power4Vets process.  His hard work and efforts, along with his dedication truly prepared him for his future career job in the industry. Congratulations Michael!
"Words from Michael Rapparlie"
I, like many people most likely reading this, was concerned about what I was going to do upon getting out of the Navy. I knew I really enjoyed my job as a load dispatcher, and heard a lot of things about people being very successful getting out and getting a job as a "civilian load dispatcher". The same people told me about Power4Vets, but only one followed through with the program, and had transitioned out before I had a chance to talk to him in depth about it. Most just did what everyone else in the Navy, which was to go to a hiring conference and didn't really use the nuclear training to their fullest advantage. I personally believe that there was a reason that I received the training that I did, and it was to get a job that reflected that training.  I was hesitant at first, as it was a pretty big commitment and I hadn't heard of anyone, personally, that had succeeded in getting a job in the civilian power distribution industry. My goal was to be a system operator, but I didn't know how to go about it.  I had backup plans, as most of you will most likely have as well, but none came close to the opportunities this offered me. Not only was the material set up in a very logical and easy to understand manner, but everything else they offered made everything incredibly easy and convenient. I started the program while still on deployment. It was rather difficult to find adequate time or bandwidth to do a lot of the online portions, but anything that was a PDF, I studied as much as possible and then finished the rest of the online training modules when we made it back to home port.
I couldn't have been happier with their assistance in finding me a job. It made the transition out of the Navy incredibly smooth. They were a perfect sturdy bridge from the Navy to the civilian power side.  I had a new job, and the only thing I had to worry about was getting my DD214 and cleaning out my apartment. It was an incredible relief. Obviously, a lot of the theory and operations was review, as I had been a load dispatcher/electrical operator for some time. But it's not just for people that were Nuke EM's. It starts with the basics, and works up and builds your understanding and gets you ready to do the job, with a side effect of being able to pass the test. I highly recommend this for anyone that is serious about being a system operator as a career when they transition out of the Navy. Feel free to message me on linked in. Good Luck, and I'll see you on the outside.