We work with 140 utilities and power organizations to aid in the safe & reliable delivery of electricity on 5 different continents.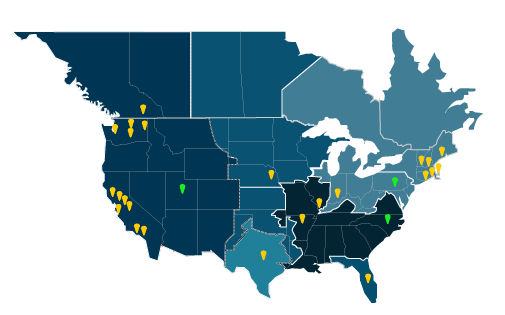 The map above shows some of our TOP, BA, RC customers using our system specific PowerSimulator product to improve their compliance and risk management practices.
Join these and other innovative industry leaders who are tapping into system specific simulation with PowerSimulator 6™.
International Customers
---
 Sarawak Energy Berhad
Kenya Power and Light Company
Kenya Generation (KenGen)
Kenya Transmission Company (KETRACO)
CEPEL, Brazilian Electrical Energy
Research Center
Mitsubishi Electric
Toshiba
Ministry of Electricity – Iraq
Transpower – New Zealand
Ministry of Electricity – Iraq
Transpower – New Zealand
ONS
CHESF
CTEEP
ElectroNorte
CEMIG-D
Current PowerSimulator™ Customers
---
AEP (Generic PSM)
Avista Corporation
California Independent System Operator
Central Maine Power Company
City of Burbank Department of Water and Power
CONVEX
Douglas County PUD
Fortis BC
FRCC
Gainesville Regional Utilities
Grant County PUD read story
Hetch Hetchy
ISO New England
Lincoln Electric System
Modesto Irrigation District
National Grid
NSTAR
Pacific Gas and Electric Company
PJM (Generic PSM)
Public Service Company of New Hampshire
Public Service New Mexico
Sacramento Municipal Utility District
Southern California Edison
Southern Illinois Power Cooperative
Tacoma Power
Turlock Irrigation District
Vectren Corporation read story
Vermont Electric Power Company
WECC
Online Training with PowerSimulator™ Customers
---
ACES Power Marketing
Alberta Electric
Alcoa – Tapoco-Yadkin
Alcoa Power Generating
AMEREN – UE
AMEREN Energy Marketing
Arizona Public Service
Avista Corp.
Avista Utilities
Bangor Hydro Electric Co
Beaches Energy
Black Hills Power
Bottle Rock Power
Bryan Texas Utilities
Calpine
Central Electric Power Cooperative
Central Hudson Gas & Electric
Central Louisiana Electric Company
Chelan County PUD
City of Ames Electric Services
City of Anaheim
City of Burbank – Dept of Water & Power
City of Columbia – Water and Light
City of Homestead
City of Pasadena DWL
City of Redding
City of Springfield, IL CWLP
City of Tacoma Power Energy Trading
City of Vero Beach
City Utilities
City Water Light and Power
Clark Public Utilities
Colorado Springs Utilities
Conectiv Power Delivery
Consolidated Edison
CONVEX (Northeast Utilities Service Co)
Cowlitz County PUD
CPS Energy (City Public Service)
DTE Edison
Duke-TOW
East Kentucky Power Cooperative
EDP Renewables NA (Horizon Wind Energy)
El Paso Electric
Electric Energy Inc.
Empire District Electric
Entergy Services – TX
Eugene Water & Electric Board
First Wind Energy
Florida Keys Electrical Coop
Fluor B&W Portsmouth, LLC P (USEC)
FortisBC Inc
Gainesville Regional Utilities
Gainesville Regional Utilities Distributi
Georgia Systems Operations
Grant County PUD
Great Lakes Power
Hetch Hetchy Water and Power
Homestead, City of
Hoosier Energy Rural Electric Company
Iberdrola Renewables National Control Ctr
Idaho Power Company
Indianapolis Power and Light – PMO
Infigen Asset Management LLLC (Bluarc)
ISO – NE
Jacksonville Electric Authority
KAMO Power
Kansas City Board of Public Utilities
Lafayette Utilities System
Lake Worth, City of
Lansing Board of Water and Light
LGE and KU Energy LLC Lincoln Electric Co
Los Alamos – KSL
Los Angeles Department of Water and Power
Louisiana Generating LLC
Louisville Gas and Electric
Memphis Light Gas & Water
Midwest Energy, Inc.
Misssissippi Power Authority
Modesto Irrigation District
MP2 Energy
MWISO
National Grid USA
National Lab – Los Alamos
New Brunswick System Operator
North American Electric Reliabitliy Co
Nova Scotia Power
NSTAR Electric & Gas Corporation
NW Electric Power Cooperative
Ocala Electric Utility
Occidental Petroleum
Ohio Valley Electric Corporation
Oklahoma Municipal Power Authority
Oncor – TXU Electric Delivery
Pend Oreille PUD
PEPCO
Platte River Power Authority
Portland General Electric
PPL EnergyPlus – PA
Prairie Power Inc
PRO
Public Service CO of New Mex – Marketing
Public Service of New Hampshire
Public Utility District of Grant County
Puget Sound Energy
Puget Sound Energy Marketing
Reedy Creek Energy Services
Reliability First
Rio Tinto Alcan
Rochester Public Utilities
Sacremento Municipal Utility District
Salt River Project
Santee Cooper
Seattle City Light
Seminole Electric Coop
Sempra – Mesquite Solar
SIGECO – Vectren Corporation
Silicon Valley Power (City Santa Clara)
Snohomish County PUD
Southeastern Power Administration
Southern Company Generation
Southern Illinois Power Cooperative
Southern Minnesota Municipal Power Agency
Southwest Transmission Cooperative
Sunflower Power Cooperative
Tacoma Power Energy Trading
Tallahassee Muni Electric System Control
Tampa Electric Company
TBC Operations, LLC
Texas New Mexico Power
Total Acciona Energy NA
Tucson Electric Power
Turlock Irrigation District
UGI Energy Services
Utilities Commission of New Smyrna
Valley Electric Corp
Westar Energy
Wind Energy Transmission Texas, lLC
Wolverine Power Supply Cooperative
Xcel Energy – Denver