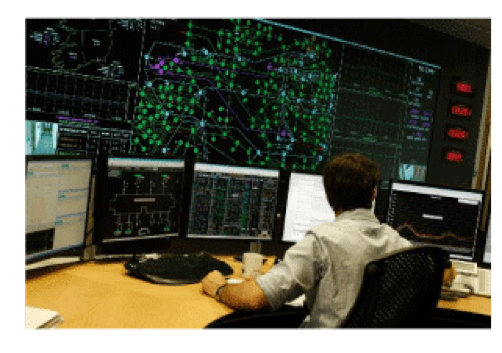 A system operator is on the front lines ensuring the reliable delivery of electricity to consumers, businesses and industry. System operators manage the power grid from a set of computer consoles within a control center. System operators interact over the phone with field crews, general personnel, substation personnel, and other system operators within their own utility and with neighboring utilities. In many ways being a system operator is similar to military service. Time is spent carefully monitoring the system conditions in order to anticipate and mitigate potentially dangerous and costly system problems. System operators are constantly training, honing their skills, and using simulation to practice new situations which broaden their expertise. However, when major system disturbances do occur (like a wind storm or equipment failure) it is the system operator's job to quickly respond and restore the power grid to safe operating conditions.
Work Environment
System operators typically work on shifts (which vary by utility).  The Dupont work schedule can provide you a sample of how the potential work schedule may look like schedule may look like at utilities all across the country (Dupont Work Schedule). This means that long days are common, but system operators usually have a lot of time off (around 14 days per month). Even though the role has traditionally been filled by men, this is changing. Women are populating control rooms across the country. Moreover, the power industry is one of the most veteran friendly industries in America. There is an established trend for hiring veterans, especially veterans with nuclear training.
System operators work in small teams in the control room. The size of the team varies according to the utility's size and service area. A majority of the day is spent on the control desk, monitoring the system and going through routine procedures that are carefully enacted. When not at the desk, a system operator is usually training. This training can be either online, in-house on-the-job training, participating in simulation exercises, or sharing on-the-job experiences with the training staff and other operators.
There is no question that a system operator's job can be stressful, especially during major system disturbances. The system operator must be able to remain calm and make confident decisions in spite of limited time, uncertainty of information, and with a lot at stake. A prime example of the work environment and what a System Operator does on a daily basis can be seen in the video below from ERCOT.
Types of System Operators
A system operator is a generic term for several different specializations. As a system operator you may be responsible for playing one or multiple roles:
Interchange Operator

– Responsible for enacting and monitoring interchange activities which occur between different balancing areas.

Balancing Operator

– Responsible for planning and maintaining adequate power generation supplies for expected power demand in an area, and maintaining the reliability of that area.

Transmission Operator

– Responsible for conducting transmission switching, monitoring system line loading and voltage conditions.

Reliability Coordinator

– Responsible for monitoring and ensuring the stability and reliability of multiple areas, coordinating tasks with multiple entities, and maintain reliability over such areas.
M

arket Operators

– are functionally separated from the reliability-ˇoriented jobs listed above. They are engaged by the utility to work within a market to purchase or sell current and future energy assets in order to maximize profits. Therefore, market operators do well to understand the reliability rules (NERC Standards) and constraints in power system operations.
Career Potential
Careers as a full power system operator will typically have salaries in the $60,000 – $100,000 range depending on the utility. If you are interested in working in the power industry, learning the skills necessary to be a power system operator will be a great starting point. Not only is the knowledge you gain in the process directly transferable to other careers, but attaining a wide interconnected perspective of the industry is an invaluable asset.
Becoming acquainted with the power industry and becoming employable involves hard work as the learning curve is steep. However, by training to be a system operator you will be well ahead of the competition no matter what your ultimate career goal is.
The Need for System Operators
Studies on future manpower shortages in the power industry are many. This is bad news for the industry, but great news for anyone interested in entering this secure work field. The industry itself is frantically reconsidering and reforming its recruiting methodology and training plans in order to fill the gap that will only widen in the next five years. This is mainly due to retirement of an older workforce and the inadequacy of current recruiting practices. As such, with this massive wave of experienced operators planning to retire shortly, utilities are scrambling to meet their workforce needs. This makes it a great time to get trained and employable.