History of the POWER4VETS™ Veteran Training & Placement Program and the evolution of the IncSys Academy
History
Dr. Robin Podmore's son, Steven Podmore served as Marine Corps Cobra Pilot, and now has transitioned into the Unites States Coast Guard as a Helicopter Pilot.  When Steven decided to join the Marine Corps, he attended the Naval Academy in Annapolis, Maryland.  During his son's training and education at the Naval Academy, is when Dr. Robin Podmore became exposed to how military institutions of learning, not only educated their students to become Commissioned Officers, they also molded them into men and woman of VALOR, LOYALTY, DEDICATION, COMMITMENT, coupled with a sense of worth to SERVICE to their Country.  Dr. Robin Podmore saw firsthand the sacrifices and dedication our military veterans endure daily and this became the motivation for him to create the Power4Vets program.
This motivation and conviction gave rise to the Power4Vets™ training program in 2009 under his vision, and the program was submitted to the Department of Energy (DOE) for approval as a Work Force Training and Placement program for Veterans (Grant Program open to all veterans – not a program that falls under the Regulations of a State Private School Regulations).
DOE approved the Power4Vets program and it was launched in early 2011 in an effort to recruit, train, NERC certify and place military veterans in jobs as power system operators. The DOE program was expected to run from 2011 thru 2013 while funding was available.  During the DOE project a total of 184 veterans benefited from the training, 172 of those veterans at the end of the project are working utility relatable positions, 72 of these veterans when enrolled were already working in the power industry and received training in power system operations, 62 veterans were transitioned directly from the military into power industry jobs, 36 of the veterans transitioned from outside the military into power industry jobs. A total of 67 veterans studied for and received their NERC system operator certification during the project. The need for every student in the program to obtain NERC Certification was not necessary since it was Co-Dependent on the job position they were currently employed in.
The IncSys team was instrumental on getting the NERC Reliability Coordinator Certification exam approved via the GI Bill voucher reimbursement process, and they were also able to get Navy, Army, USMC, and Air Force COOL Credentialing program approved for the following Ratings/Military Occupational Specialties (MOS), which saves the veteran on certification out of pocket expenses:
AE – Aviation Electrician's Mate                                 
CE – Construction Electrician            
EM – Electrician's Mate                                             
EM (NUC) – Electrician's Mate/ Nuclear     
ET – Electronics Technician                                       
ET (NUC) – Electronic Technician – Nuclear
GSE – Gas Turbine System Technician Electrical          
GSM – Gas Turbine System Technician Mechanical
MM (NUC) – Machinist's Mate/Nuclear                        
MM – Machinist's Mate
The USMC and ARMY COOL Credentialing Program also recognizes the NERC Certification as well for the following Military Occupational Specialties (MOS):
1141 – Electrician                                   
1142 – Engineer Equipment Electrical Systems Technician
1161 – Refrigeration and Air Conditioning Technician
6499 – Mobile Facility Technician
2887 – Artillery Electronics Technician
5951 – Aviation Meteorological Equipment Technician, OMA/IMA
6333 – Aircraft Electrical Systems Technician, EA-6
6336 – Aircraft Electrical Systems Technician, KC-130
6337 – Aircraft Electrical Systems Technician, F/A-18
6432 – Aircraft Electrical/Instrument/Flight Control Systems Technician, IMA
12P – Prime Power Production Specialist
12Q – Powerline Distribution Specialist (RC)
1A0X1 – In-Flight Refueling
2A3X4 – Fighter Aircraft Integrated Avionics
2A8X2 – Mobility Air Forces Integrated Instrument and Flight Control Systems
2A9X1 – Bomber/Special Integrated Communication/Navigation/Mission Systems
2A9X2 – Bomber/Special Integrated Instrument and Flight Control Systems
2A0X1 – Avionics Test Station and Components
2A2X1 – Special Operations forces/Personnel Recovery (SOF/PR) Integrated Communication/Navigation/Mission Systems
2A8X1 – Mobility Air Forces Integrated Communication/Navigation/Mission Systems
2A9X3 – Bomber/Special Electronics Warfare and Radar Surveillance Integrated Systems
1A3X – Airborne Mission Systems Operator
3E0X1 – Electrical Systems 3E0X2 – Electrical Power Production
During the DOE project we learned about things that worked well, and things that were a challenge.  Military veterans with Naval backgrounds as Nuclear Operators and similar electrical backgrounds had the highest rate of success and were most likely to find employment in the power industry.  Other branches of service such as the Army and Marine Corps were also able to be successful in the program and land jobs in the industry as well. Several of the veterans with non-electrical backgrounds graduated from Power4Vets program and were able to find jobs after becoming NERC Certified, but it was more difficult to predict success in this case which made it a challenge in the placement process.
The level of effort devoted to this program was greater than originally anticipated, but the results were well worth it.  Both the utilities and the veterans who participated in the DOE grant program, along with new candidates that desired to enroll into it, made the suggestion that the program should be continued since there is a need in the industry for this type of Workforce Training program, and this was a career path some veterans desired to pursue, and there were no other schools throughout the country that provide this type of targeted training program, specializing in System Operations with Power Simulator training which brings realism into the training environment.
Industry Recognition – Faraday Award
In April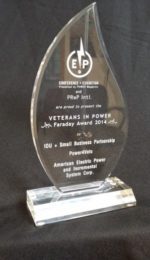 2013, the Power4Vets program along with American Electric Power (AEP) were recognized by the ELECTRIC POWER's Veterans in Power (VIP) initiative recognizing the employers who have successfully connected, employed, and engaged veterans to become long-term employees in the industry. Employers have been successful through internal corporate programs as well as many public-private partnerships with other organizations, community colleges and universities.
The Faraday Awards recognized and honored the employers, programs and partnerships that have successfully focused on elevating the careers of American veterans in the energy industry and they judged applicants' programs from across the country to highlight the "best of the best" and recognize and celebrate their efforts at the 2014 ELECTRIC POWER conference.
See story here: http://www.powermag.com/veterans-bring-needed-skills-to-the-utility-industry/
IncSys Academy Becomes a Reality
In July 2013, IncSys transitioned the Power4Vets program into a sustainable training and placement assistance organization for veterans by launching the IncSys Academy.  IncSys Academy contains PowerSimulator exercises, video instruction by Dr. Robin Podmore, and useful study materials and tutorials which have proven effective for preparation for taking the NERC Exam. Students who enrolled into the program in 2013 were not required to pay an entry fee and their tuition and services were deferred until they landed a job in the industry and or they passed the NERC Certification exam (for veteran students already working in the industry).  These same courses have been approved by NERC and are used for current System Operators who work in the utility industry so they can obtain NERC Continued Education Hours (CEH's), so they may maintain their certifications current and retain their jobs.
IncSys Academy Becomes a Private Vocational School
In November 2013, IncSys Academy became licensed by the State of Washington Workforce Training and Education Coordination Board, and they now comply with the requirements of the Private Vocational School Act, Chapters 28C.10 RCW and WAC 490-105.  Effective January 2014, new enrolled students in the IncSys Academy and the Power4Vets program fall under the revised special post-employment payment plan (Enter Link to Website here).
IncSys Academy is currently supporting approximately 100+ students (military and non-vets), 26 of these students were already employed in the power industry desiring to work towards NERC Certification, 56 students have fully completed the Power System Operator Courses (Graduates), 87 of them are working in power related jobs all across the country, and 25 are currently NERC Certified (RC), with more students preparing to take their NERC exam this year.  The training program is self-paced, and the students can take their time completing the courses, therefore the SUCCESS of the program relies mostly on the student's time and effort to complete the course content on their time, so our team can assist to facilitate placement for our students.
IncSys Academy is licensed by the State of Washington Workforce Training and Education Coordination Board, and complies with the requirements of the Private Vocational School Act, chapters 28C.10 RCW 105