Clinton Hanhi story:
An Air Force (E-4) Information Systems Specialist Operator who worked on mainframe computer systems an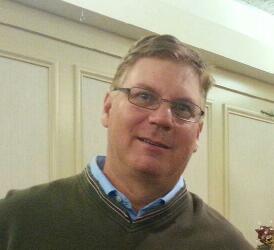 d communication lines while in the Air Force.  After he successfully completed his military career he decided to pursue an AAS Degree in Electronics Technology, and also another AAS in Sustainable and Conventional Energy and Control Technology.   He worked for Boeing Company as a Network Designer, installing computer network systems in the production factories and he also specialized in Wireless Local Area Networks.  He was also a previous Network Designer who worked on PC support as a second level on-site maintenance support technician.
While at North Seattle Community College he started training using "Power Simulator" and he made the decision to enroll into the Power4Vets program back in June 2013.  His goal was to have the ability to manage power in a generation plant, preferably at a Wind or Hydro plant, or at a PUD and or operating a grid system.  He worked diligently on his studies in the program and obtained his NERC Reliability Coordinator Certification and has landed a job with First Energy out of Akron Ohio as an Associate Transmission System Operator.
Congratulations, to Clinton Hanhi for believing in the Power4Vets program and we are Proud of your SUCCESS!!
 "Words from Clinton"
This really is a success story. Many times in life you just get to play the cards you are dealt and you make the best of it. My story is that I set a goal to land a position in the Power and Energy industry and I did it.
I met Robin Podmore (IncSys President) at a conference and he was speaking on the benefits of the IncSys Power4Vets program. I was all in. He explained the phased training which included Electrical Basics, Balancing Generation to Load and Transmission control. Next was the "Power Simulator" exercises which put that knowledge to use in a realtime atmosphere. Having access to tool like that is invaluable to the understanding of how the power grid functions and responds to changes. The final phase was the section on NERC standards. The examples and questions helped provide me with the knowledge I used to pass the NERC exam and receive my NERC Reliability Coordinator certification.
I then took advantage of P4V's job seeking assistance. With their guidance with cover letters, resumes, interviewing skills and job seaches I landed an Interview with First Energy Corp. They were impressed with my knowledge and skills and I was offered the position.
I want to acknowledge and say "Thank you" to the P4V staff. Specifically Robin, David, Calvin and Jackie. Without you this journey would not have been possible.